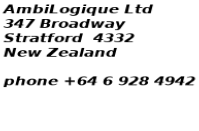 If you purchase an AmbiLogique product and find that it is unsuitable for your intended purpose, or fails to perform as specified, the product may be returned to AmbiLogique within 30 days of purchase for a full refund of the purchase price including the original carriage charge (if any). This is subject to the following conditions:-
AmbiLogique must be informed of the intention to return for refund within the 30 day period, together with detailed reason for return. AmbiLogique may provide technical assistance to enable the product to be used, and this may involve further trials. This extended trial period will not invalidate the refund warranty, which will have been secured by the original advice of intention to return.

A Return Material Authorization (RMA) number must be obtained from the AmbiLogique factory and clearly marked on the outside of the package.

The goods must be returned complete and undamaged. AmbiLogique reserves the right to reduce or refuse refunds on goods which are returned damaged or incomplete.

If the original purchase was paid for by credit card, the refund will be made by crediting back to the original card account. This arrangement is a legal requirement and cannot be varied.
END